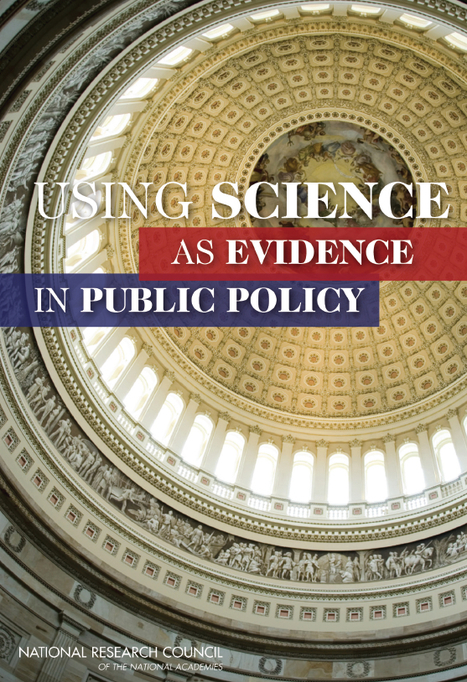 Using Science as Evidence in Public Policy encourages scientists to think differently about the use of scientific evidence in policy making.
Contents:
2 Why This Report Now
3 The Use of Research Knowledge: Current Scholarship
4 Research on the Use of Science in Policy: A Framework
5 The Next Generation of Researchers and Practitioners
Appendix A Selected Major Social Science Research Methods
Appendix B Biographical Sketches of Committee Members and Staff
"The research framework argues for more careful study of policy argumentation, as well as for increased roles for the psychology of decision making and for systems perspectives. The social sciences offer important knowledge about how mental models, belief systems, organizational rules, societal norms, and other factors influence the behavior of decision makers. They also offer important knowledge about how people learn, when they optimize and when they satisfice; why they organize themselves, form institutions, communicate, establish norms, and develop routines; how they assess risks; and how they make decisions, individually and collectively. This array of scientific specialties has never fully addressed a key issue: when,
why, how, even whether science is used in public policy making. Research can explain the cognitive operations and biases that policy makers and scientists bring to their work and the context-specific situations, practices, logics (ways of reasoning and understanding), and cultural assumptions of the settings in which they operate. Relevant research fields include social psychology, behavioral economics, decision theory, and organizational sociology. We urge scholars in these and related specialties to investigate the use of scientific knowledge in policy making."
Source:
Kenneth Prewitt, Thomas A. Schwandt, and Miron L. Straf, Editors;
Committee on the Use of Social Science Knowledge in Public Policy;
Center for Education; Division of Behavioral and Social Sciences and
Education; National Research Council, 2012
ISBN 978-0-309-26161-6, 122 pages
Via
wmijnhardt
,
Lynnette Van Dyke
,
Jocelyn Stoller