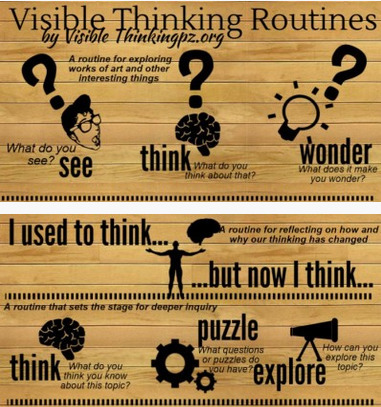 Beth Dichter's insight:
Harvard University has a website on visual thinking that is designed for educators and students. Silvia Tolasano, the author of Langwitches Blog, has taken a number of their routines and created visualizations that would be useful for students, visualizations that you might post on your walls or provide copies of for students to put in their binders.
There is one twist to a number of these visualizations...they are specific for blogging. The image above includes two of the visualizations. In the post you will find an additional five routines. You will also find an infographic of all the routines within the post available as an infographic
To go directly to the site at Harvard use this link: http://www.old-pz.gse.harvard.edu/vt/VisibleThinking_html_files/VisibleThinking1.html/. And if you are wondering why you might use visible thinking routines consider this statement from the website on visual thinking (at Harvard):
"Visible Thinking has a double goal: on the one hand, to cultivate students' thinking skills and dispositions, and, on the other, to deepen content learning."
Via
Beth Dichter