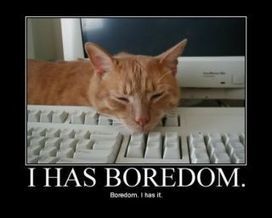 The key factors underlying boredom....
As Eastwood, Frischen, Fenske, and Smilek point out, bored people become aware of their difficulty concentrating. As a result, bored people often try to amuse themselves by daydreaming and letting their mind wander. Interestingly, while mind wandering helps people to keep their minds occupied, studies suggest that the more your mind wanders, the more bored you feel. The idea is that you recognize that this daydreaming is meant to occupy your mind, and so you realize that the situation is boring.
One more key element of boredom is control. Boredom often occurs when you have little control over your situation. Waiting rooms, lectures, and airline gates are all places where you have little control over your situation. Normally, we react to unpleasant situations by changing the situation. If you don't like a book you are reading, for example, you close it and do something else. Boredom happens when you are unable to change the situation.
Finally, a real problem caused by boredom is that it leads you to dislike the things that are the object of boredom. In my senior year of high school, for example, I was forced to readMoby Dick. I struggled to get interested in it and spent long hours staring at the pages trying to lose myself in it. To this day, I really do not like Moby Dick. The negative feelings that came with the boredom have stuck to the book.