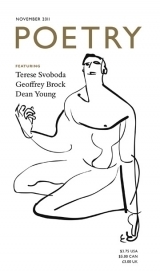 Read the latest issue of Poetry magazine-- the oldest monthly devoted to verse in the English speaking world.
Getting in Shape
The tradition of concrete poetry provides sturdy foundations for several pieces in the November 2011 Poetry. A concrete poem physically resembles its topic: see, for instance, George Herbert's classic "Easter Wings" (which Michael Robbins mentions in this issue's review of Geoffrey Hill). See also T. Zachary Cotler's sloping poem "Clover":
On a brain-gray day,
he lay on the hill-slanted solar
array with a southern exposure,
toes in the clover
mixed in with what are these
pentagrammatic sprays
of pinnate leaves.
Continued....