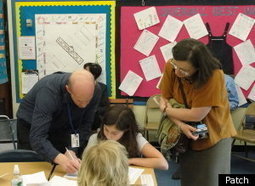 "The Tea Party dominated New Hampshire Legislature on Wednesday overrode the governor's veto to enact a new law allowing parents to object to any part of the school curriculum.

The state House voted 255-112 and Senate 17-5 to enact H.B. 542, which will allow parents to request an alternative school curriculum for any subject to which they register an objection. Gov. John Lynch (D) vetoed the measure in July, saying the bill would harm education quality and give parents control over lesson plans.

'For example, under this bill, parents could object to a teacher's plan to: teach the history of France or the history of the civil or women's rights movements,' Lynch wrote in his veto message. 'Under this bill, a parent could find 'objectionable' how a teacher instructs on the basics of algebra. In each of those cases, the school district would have to develop an alternative educational plan for the student. Even though the law requires the parents to pay the cost of alternative, the school district will still have to bear the burden of helping develop and approve the alternative. Classrooms will be disrupted by students coming and going, and lacking shared knowledge.'

Under the terms of the bill, which was sponsored by state Rep. J.R. Hoell (R-Dunbarton), a parent could object to any curriculum or course material in the classroom. The parent and school district would then determine a new curriculum or texts for the child to meet any state educational requirements for the subject matter. The parent would be responsible for paying the cost of developing the new curriculum. The bill also allows for the parent's name and reason for objection to be sealed by the state."