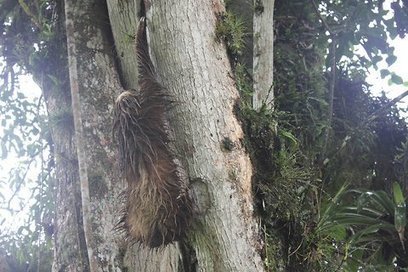 "Scientists assessing mammal diversity on Costa Rican coffee farms puzzle over why some sample sites yield more mammal captures than others."

"S. Amanda Caudill, a doctoral student at the University of Rhode Island, writes from Costa Rica, where she is assessing mammal diversity on coffee farms.

Thursday, Dec. 8

There are many advantages to living on the Centro Agronómico Tropical de Investigación y Enseñanza campus. In addition to having potable drinking water, access to a laundromat and the ability to swing by Fabrice DeClerck's office (my adviser here) whenever I have questions, there is a ton of wildlife on campus. We have seen many different species of birds, caiman, armadillos and most recently a two-toed sloth that was walking beside the roadway. We watched the sloth slowly make its way up a tree and even had time to run back to the house and get cameras before it was out of sight.

Freshly picked ripe coffee berries from the Catie farm.
We started on our third round of sampling for the sites. The first site in line is the Catie farm. On the very first day of checking the traps, we had two captures in the sun coffee! At this site, we barely get any captures in the coffee, much less in the portions of coffee without many shade trees. Theoretically, we would expect that the highest amount of captures would be in the organic coffee, followed by the shade coffee, then the sun coffee. Both of the animals were pygmy rice rats (Oligoryzomys fulvecens). I started to think that maybe we would begin to see more mammals in coffee habitat and at the Catie site in general, but unfortunately that was not to be the case."