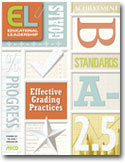 No More "We've Always Done It That Way"

"Challenging these traditions will not be easy. They've been a part of our education experiences for so long that they usually go unquestioned, despite the fact that they are ineffective and potentially harmful to students.

Education leaders who challenge these traditions must be armed with thoughtful, research-based alternatives. You can't go forward with only passionately argued opinions. To succeed in tearing down old traditions, you must have new traditions to take their place.

This means that education leaders must be familiar with the research on grading and what works best for students so they can propose more meaningful policies and practices that support learning and enhance students' perceptions of themselves as learners. Leaders who have the courage to challenge the traditional approach and the conviction to press for thoughtful, positive reforms are likely to see remarkable results."