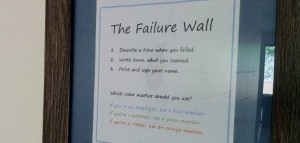 An American company is using a unique approach to learn from failure. Post your mistakes at Here & Now's very own failure wall.

Apple Founder Steve Jobs is remembered for the way that he rose back up from failures. It worked pretty well for Jobs, and now businessman Jeff Stibel is betting on failure to help him succeed too.

Stibel is is the chairman and CEO of Dun and Bradstreet Credibility Corp, a private company that provides credit services to businesses.

He created a "Wall Of Failure" where employees can acknowledge past failures, and what they've learned as a result.

"We created the opportunity to cherish failure. We took the biggest wall we have in our office and we made it a failure wall and we put a bunch of well-known quotes and then we added some of our own," Stibel told Here & Now's Robin Young.

The wall includes one of Stibel's largest business failures.

"My biggest one [failure] was that I had an opportunity to sell my first company to a little-known company called Google at the time. That was one of many," he said.