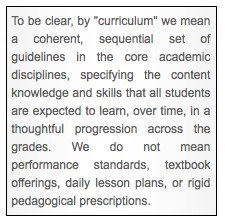 We therefore applaud the goals of the recently released Common Core State Standards, already adopted in most states, which articulate a much clearer vision of what students should learn and be able to do as they progress through school. For our nation, this represents a major advance toward declaring that "equal educational opportunity" is a top priority — not empty
rhetoric.

To be clear, by "curriculum" we mean a coherent, sequential set of guidelines in the core academic disciplines, specifying the content knowledge and skills that all students are expected to learn, over time, in a thoughtful progression across the grades. We do not mean performance standards, textbook offerings, daily lesson plans, or rigid pedagogical prescriptions.

We also caution that attaining the goals provided by these standards requires a clear road map in the form of rich, common curriculum content, along with resources to support successfully teaching all students to mastery. Shared curriculum in the core academic subjects would give shape and substance to the standards, and provide common ground for the creation of coherent, high-quality instructional supports — especially texts and other materials, assessments, and teacher training.

Click on the title to read more.