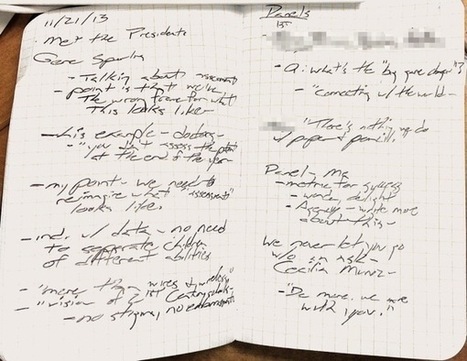 "Over the last few weeks, I've heard the phrase that is the title of this post used as a badge of honor. I've also heard it said this way: "There's nothing we do with paper and pencil." Folks have sworn that they never use, would never use, or would never have students use, pen and paper to further their learning, as if pen and paper were cancer-causing or habit forming.1 What's creepy is watching other people nod their heads and smile when a speaker says that. Those folks should challenge the speaker. Sometimes, we're just entirely too polite.
The last time I heard this phrase and saw the head nod/smile response was during the Champions for Change event. My notes are below. My, ahem, paper notes. I hope the video of the conversation is posted soon.
Too many proponents of digital tools get stuck in the false either/or dichotomy that suggests that we must abandon paper to embrace the digital. That's silly. Paper is good for lots of things. Scribbling on a tablet isn't yet the best way to get thoughts down in a hurry. Paper is easily sharable and postable in ways that notes on a tablet or laptop aren't.