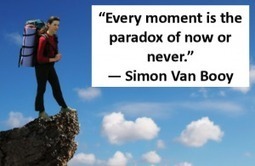 "'Every moment is the paradox of now or never.' ~ Simon Van Booy
This week we begin the 4th cycle and year of the 30 Goals Challenge for Educators. This year's theme is, 'This is MY Moment.' Each goal will focus on getting educators to believe their plans of action now will lead to positive changes and transformation in their teaching and learning environments.
I've learned a lot throughout my journey as a teacher, especially undergoing the 30 Goals for Educators. We are now in our 4th year and over 9000 educators have joined in aiming to complete short-term goals to become better educators for themselves and learners. I've been blessed to be the igniter of this movement and see the impact and the way this process has transformed lives. Like any other movement and action it begins with a choice and 4 years ago when I posted the first goal as a new blogger I encountered many fears and excuses for never starting this journey. I had that moment in which the idea came to me and at the time I remember thinking of all the ways this would fail. I had been blogging for less than a year and had thought only a few people read my blog. I didn't have enough time and each year I become busier and each year I wonder if it is the last year. The 30 Goals continue to be my inspiration and get me through the obstacles I put in my mind. There will always be things that get in the way of transformational action. We will always have time constraints or many other "busy things to do" but in the end I remember that I have this moment. The idea came to me now for a reason and I can decide to either take that moment and idea and live the transformational life I want to or I can let that moment slip by and continue to live in the mundane and routine that doesn't really make me a happy person. I can continue to do the things that make my life stressful and uninspiring or I can take this moment and make my life purposeful and inspiring."