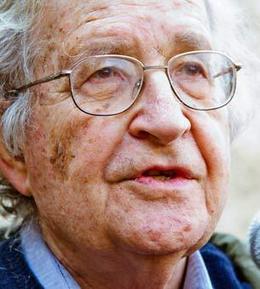 In a wide-ranging consideration of 21st century education, Noam Chomsky argues that much of what passes for education reform is 'a way of turning the population into a bunch of imbeciles.'
"Actually, just today, I had lunch with a faculty member here I've known for many years who works on designing educational programs for high schools, science programs. He's describing the programs, and they are programs like one of the programs that they're trying to get high schools to use around the world, incidentally - not just here. So he described one in which it starts by asking the question, "How can mosquitoes fly in the rain?" And then, but why is there a problem? Well, you study the force of the raindrop hitting a mosquito - it's like a person being hit by a locomotive.
So how come they don't get smashed to pieces? And what makes them stay up? And then a million other questions come. You start looking into these questions. You start learning physics, biology, all kinds of things. And there are things that the students can do so that they can ask questions, and pursue them, and do experiments and so on. I mean, that's education. It's not just you learned how a mosquito flies in the rain, but you learn how to be creative and why it's exciting to learn things and create things and make up new things. And that can be done from kindergarten on."
Via
Nik Peachey