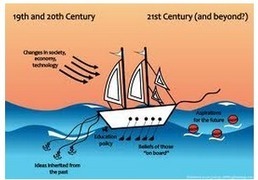 "Every single teacher is concerned about his/ her teaching practices and the skills involved in this process. How many times have you wondered about a better way to teach the same lesson you have delivered to an eariler class? How often have you used technology to engage your students and improve their learning ? These are some recurring questions we keep regurgitating each time our teaching skills are put to the test."
"There is no blinking the fact that the type of students we teach today are completely different from last century's. We , definitely, need to look at some of the skills we, as teachers, need to equip ourselves with to better live up to the challenge. Among all the challenges we would have in education, there is not as daunting a challenge as catching students focus and getting them engaged in the learning process. For this particular reason, and in addition to the skills I initially mentioned in 21st Century Teaching Skills article, I would like to provide you with another list of some equally important digital skills that you, as a teacher, need to seriously consider if you want to pave the way for the 21st century teaching. I have added a list of web tools under each skill for teachers to better exploit it.
Please, remember that I have spent many laborious hours working on this post and all I ask is a credit back to Educational Technology and Mobile Learning when re-using this content somewhere else."
Via
Steve Wheeler