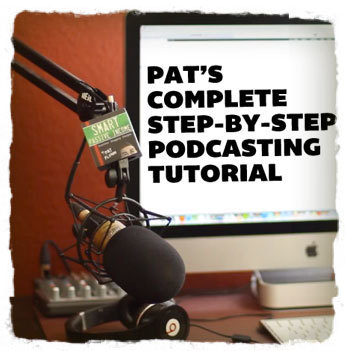 My Complete, Step-By-Step Podcasting Tutorial to help you Learn How to Start a Podcast like a Pro. 6 High-Quality Videos and Everything Else You Need!
Starting a podcast has been one of the best decisions I have ever made for my brand. Ever.
Since starting The Smart Passive Income Podcast in July of 2010:
* The show has surpassed 2,000,000 total downloads. (Sept. 24, 2012 – see graph)
* The podcast has become the #1 way people who read my blog found out about me – that's above search, social media and links from other websites. (See survey results)
* I was contacted by a Hollywood producer who listened to my show to consult as the social media director for a $10M independent film (See IMDB)
* Fox News reached out to me to feature my story on the evening news.
* I led a panel at Blog World Expo in New York this past June about the power of podcasting. It was cool to see the room filled beyond capacity. (See image)
* Several other big-name bloggers have started their own podcasts, including Michael Hyatt, Michael Stelzner and Derek Halpern - and even more recently Seth Godin.
* I've become more confident as a person and better skilled as a speaker. It was the perfect stepping stone to conquering my fear of public speaking. Next year, I've already been booked to speak at 4 different events around the United States, and have been asked to speak at even more events around the world....
[Pat Flynn is an Internet marketer but don't let that throw you off from this excellent how-to podcast tutorial and resources. he's got a very approachable style and practical advice to blogging and podcasting. From this post you can get access to six videos for free as well as a list of other resources. Highly recommended.~ Jeff]
Via
Jeff Domansky