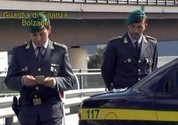 Man cons religious institutes with fake donation fees, Trickster pocketed up to 700 euros per day, , English News, Ansa...
Here is where I teach you a few appropriate words:
Douchebag >The term generally refers to a male with a certain combination of obnoxious characteristics related to attitude, social ineptitude, public behavior, or outward presentation.
Scum of the earth>a dishonest, unkind, or unpleasant person
Jerk >a stupid person or a person who is not well-liked or who treats other people badly
All three describe this con artist who stole from people.
He is a person who tricks other people in order to get their money.