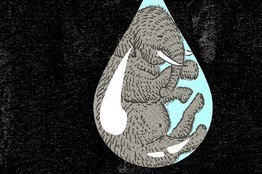 *Synthetic biology, already practicable and a boon to industry, could revolutionize human life*

by
GEORGE M. CHURCH and ED REGIS

"Yes, you can teach old bacteria new tricks. It is now routine to genetically reprogram microbes to make plastics, biofuels, vaccines and antibiotics. They have been engineered to detect arsenic levels in drinking water, destroy cancer cells and store digital data in DNA, making bacteria into biological flash drives.

But we may not have seen anything yet. Someday we may be able to create microbial (and possibly human) cells that are resistant to viruses and to bring extinct species like the woolly mammoth back to life. We could expand the human life span, increase our intelligence and enhance our ability to survive long space journeys.
Some applications of synthetic biology have already proven themselves scientifically as well as commercially—bioplastics, for example. Take Mirel, the biologically produced ingredient in ecologically beneficial transparent plastic cups and other products......"
http://on.wsj.com/UiJQ3U
Via
Gerd Moe-Behrens