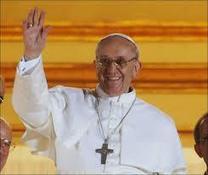 We long for spiritual guidance and moral leaders. And the pope becomes a visible representation of that longing. "Lowly But Chosen", are the words that make up the moto of Archbishop Begoglio's archdiocese in Argentina.
How will Pope Francis lead?
1. Without Pretension. You have probably heard the stories of Archbishop Bergoglio choosing to take public transportation in Argentina rather than a limo. He chose to live in a small city apartment rather than the royal trappings fit for a Cardinal. His first public message as pope was to request prayers for himself from the masses, rather than declaring a papal blessing over those who had gathered.
2. With Compassion. As a Jesuit, Archbishop Bergoglio made much of meeting the needs of the downtrodden and neglected. Kim Daniels, Director of Catholic Voices USA, stated "He is a real voice for the voiceless and the vulnerable.
3. With Conviction. Archbishop Bergoglio is known to have had his differences with elected officials. He has had several run ins with the current President of Argentina, Cristina Fernandez. When he believes he has seen injustice his voice is raised.
Read the article:
http://garyrunn.com/2013/03/15/lowly-but-chosen/