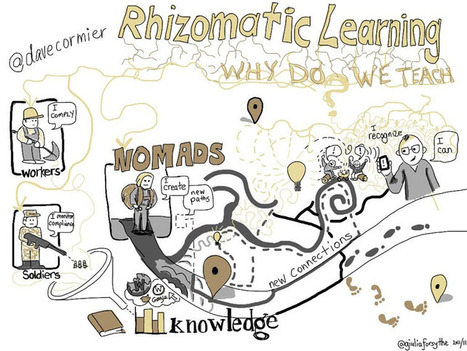 If we're matching the learning theories and instructional strategies with existing social conditions, we've really got some work to do.
Existing theories, including Connectivism, Constructivism, Communal Constructivism, and the above idea of rhizomatic learning, freely allude to both the potency and inherent chaos of crowds. Direct instruction depends on the credibility of both teacher and curriculum from the perspective of the learner, and, more optimistically, on homogeneous schema of learners across a classroom.
Rhizomatic learning is not interested in your data-driven instructional strategy you're hoping to use in operation of an outcomes-based and backwards-designed learning system.
After all, you–or someone before you–has parsed the universe itself into but a handful of "content areas," listed exactly what students should come to know, and then placed 30 students by age and geographic location and asked that you lead them all to "proficiency" of each standard, no matter their background, will to learn, unique interests, or, more critically, existing schema.
And the key to make all of this magic happen? Pre-assessment and resultant data to constantly monitor and revise planned instruction. Data doesn't lie.
That's pretty ambitious.
Rhizomatic learning takes another approach.
Via
Miloš Bajčetić
,
Lynnette Van Dyke