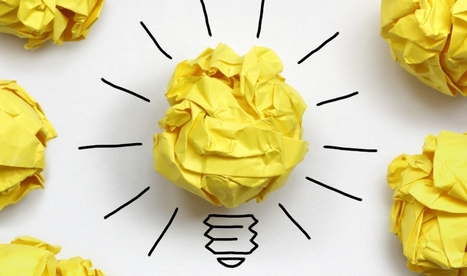 Not long ago, strategy was king. Forecasting, planning and placing smart bets created the power sources within organizations.
The future of a business (or a career) could fit into an established framework or system. If managed well, success would follow. Today, uncertainty is palpable.
Planning for next quarter is a challenge. Even more difficult is committing to decisions that will play out in one to five years.
What is the new process, the innovative product, the game-changing service or the compelling vision?
In the words of one senior executive: "We've lost our crystal ball."
☛ What leaders need now is Innovation Leadership...
They need it for themselves, as they learn to operate in challenging, unpredictable circumstances.
They also need to create a climate for innovation within organizations. Innovative systems, tools and thinking are essential for organizational health and future viability.
Underlying the pressure to adapt — as individuals and organizations — is the need to innovate. But how? ☜

<> Innovation leadership has two components <>
1- An innovative approach to leadership:
This means to bring new thinking and different actions to how you lead, manage and go about your work...
2- Leadership for innovation:
Leaders must learn how to create an organizational climate where others apply innovative thinking to solve problems and develop new products and services. It is about growing a culture of innovation, not just hiring a few creative outliers....
Business thinking vs. innovative thinking
Today's managers are not lacking ideas, theories or information. They have extraordinary knowledge and expertise. They are skilled practitioners of traditional business thinking.
△▲Six innovative thinking skills△▲
✏ Designers ask questions like how do we make something beautiful and usable?
✏ How does it mechanically go together?
✏ How do we reflect the brand?
✏ Leaders ask questions such as, What are we trying to achieve and why?
✏ How do we accomplish our goals?
✏ What people and resources do we need to make it happen?
By weaving together the leadership process with the design process, CCL and Continuum have identified six innovative thinking skills:
◁ Paying Attention…
◁ Personalizing…
◁ Imaging…
◁ Play…
◁ Collaborative…
◁ Inquiry…
◁ Crafting…
F. Scott Fitzgerald once said, "The test of a first-rate intelligence is the ability to hold two opposing ideas in the mind at the same time and still retain the ability to function."
Experiment with innovation
In our work with people across industries, functions, experience and background, we've learned that everyone has the ability to develop and use innovative thinking skills:
➹ Reframe the challenge…
➹ Focus on the customer experience...
A deeper understanding of your customer comes from interacting with him or her in his or her real environment.
➹ Practice rapid prototyping…
☕ Leadership for organizational innovation requires ☕
☕ Organizational Encouragement…
☕ Lack of Organizational Impediments…
☕ Leadership Encouragement…
☕ Sufficient Resources…
☕ Realistic Workload…
☕ Freedom…
☕ Challenging…
☕ Work…
☕☕☕ Teamwork and Collaboration…
A call for innovation leadership Businesses, institutions and communities are feeling the limits of their standard processes. The added burdens of economic pain and widespread uncertainty have leaders everywhere looking for new ways forward.
Innovative leadership — the use of innovative thinking and the leadership that supports it — is the key to finding what's new, what's better and what's next…
Post ImagE: http://bit.ly/1jSH6Xx
Via
Mhd.Shadi Khudr