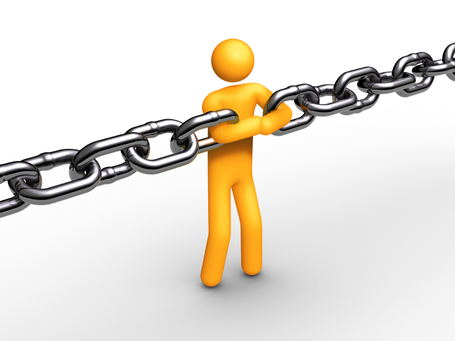 The theory of constraints (TOC) adopts the common idiom "A chain is no stronger than its weakest link" as a new management paradigm.
This means that processes, organizations, etc., are vulnerable because the weakest person or part can always damage or break them or at least adversely affect the outcome...
...We do have the intuition to know that local optimization doesn't work well for the overall system good. And although this looks as though it is the result of both our own psychology and the fact that large scale serial process operations are very recent human inventions; it is also apparent that we do know how to develop a system-wide perspective even within these systems.
We know this because the people at the top (and some others too) can see the overall system – and we know that these people are no different from you or me.
We also know that, currently, these people are being served by a "legacy" system; a system of local cost accounting and local efficiency.
What we need is a process by which to facilitate the change.
A process of get us from where we are now to where we want to be in the near future.
Senge described the "where we are now" as the current reality, and the "where we want to be in the future" as the vision.
He noted that if there was no gap between the current reality and the vision, then there would be no need to move toward the vision.
The gap between the two becomes a source of creative energy which he termed "creative tension."
Goldratt briefly outlined a process of change in 1990.
He characterized it as follows;
(1) What to change.
(2) What to change to.
(3) How to cause the change.
...In a way we have already intuitively done all of the first step and part of the second step.
We did this when we formulated our rules of engagement. Let's repeat the rules here;
(1) Define the system.
(2) Define the goal of the system.
(3) Define the necessary conditions.
(4) Define the fundamental measurements.
(5) Define the role of the constraint(s)....
Highly Supportive:
Part II:
Part III:
Post Image: http://bit.ly/LgvXe8