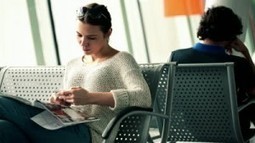 In another sign of the changing times, a new CDMiConnect report says that patients are using their mobile devices in waiting rooms and, to a lesser extent, exam rooms, more and more to search the Internet for information about the particular health problem that brought them to the waiting room in the first place.
3000 patients, all 18 years of age or older, were surveyed for the report, named "The Patients First Reports: In-Office Mobile Device Use." Deb Deaver, agency president for CDMiConnect, said that these 3000 patients had over 200 different health conditions and were surveyed in order to "understand the impact of healthcare at our fingertips and uncover how it has influenced the roles we play in each other's lives."
What they found, according to managing partner Deana Peck, was "so surprising that we decided to go ahead and publish our findings."
For instance, the average patient spends about 20 minutes in a doctor's waiting room (which, frankly, isn't so surprising) and, during that time, one in five is using their mobile device to search for health information or, as researchers put it, "[turning those] 20 minutes of tedium into a productive prelude to an active doctor discussion."
What they also found was that healthcare marketers have an incredible opportunity to leverage this time in order to open a dialogue between patients and their particular healthcare provider, as well as provide valuable content that caters to their particular healthcare needs.
Elliott Tyler, managing partner of CDMiConnect, says that "The majority [of patients] were looking for information specifically around their appointment." Tyler added that "They want to know 'what do these symptoms mean' and are searching for that confidence so they can engage their doctor about it."
Interestingly this "search for confidence" is the very foundation for nearly all advertising and marketing. Consumers are always searching for information that will support their motivations and desires, no matter what it is that they happen to be doing, and give them the confidence they want/need to proceed.
Tyler confirmed that "The common theme was patients feeling prepared and confident to have that discussion with their doctor." He said that, in order for agencies to capitalize on this waiting time, they need to think about information that patients are searching for and then focus their strategy on making that information accessible through related content.
He gave an example about someone "using their phone in an exam room, and during their previous appointment, the doctor said he wanted to put them on product X," continuing by saying that "And so the patient takes out her phone and looks up the side effects, which sound awful to her, and then during the appointment asks what else she could try."
Talk about keeping a doctor on his or her toes.
From casual users searching for a little bit of information to help them "sound educated" when speaking to their medical doctor, to "power users" who dig deep into Internet content to learn everything possible about their healthcare situation, this new and improved information availability is changing the way healthcare providers communicate with their patients.
And it's also changing the way marketers create their healthcare related content.
Via
Philippe Marchal
,
dbtmobile