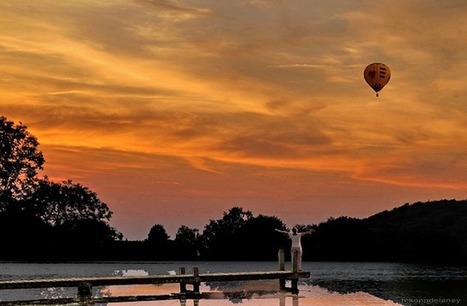 by Marissa Håkansson

Inner peace is not something we need to 'attain'; it's present within us at all times. However, experiencing inner peace can sometimes seem difficult.

We get so busy in our minds and lives that we end up feeling disconnected from our bodies and inner self. Along with that, we lose touch with our innate sense of peacefulness and ease.

So how do we connect with our sense of inner peace?

Well, there's nothing we need to "do" per se to feel peaceful and at ease. Peacefulness arises more out of a non-doing. Out of our ability to simply 'be' with ourself and feel connected at a deep level.

Because many of us are used to 'doing' rather than being connected to our inner self, sometimes we need a little help; something that will gently guide us in the direction of inner peace.

In my life, I use four main pathways to help me reconnect with inner peace.

I call these 'pathways', because in and of themselves, they won't necessarily result in a state of peacefulness. However, if you engage in them consciously (when you're genuinely present with yourself and the experience), you'll find they lead you in the right direction. At least, that's what I've found to be true for myself.

I find that the more I integrate these pathways into my life, the more naturally I feel balanced and well within myself. By engaging with them, they prompt a sense of openness and freedom within my whole body and self. And from that place, I can connect with the stillness and inner peace that resides at the core of who I am.

The pathways that can support you in creating inner peace are:

1. Quietness

Creating quiet spaces in your day is one of the most transformative practices you can integrate into your life. By prioritising being quiet, and resting in that quietness, you'll naturally create a deeper sense of life balance.

I know this to be true from my own journey of managing stress and experiencing exhaustion from a busy life. By introducing quiet spaces into my life, I gradually learnt to create relaxation, ease and wellbeing in my life.

I still create and prioritise quiet space in my life now. While the way I create that quiet space may look a little different each day, in essence there's nothing for me to do other than be with myself and my experience in that moment.

2. Nature

Nature continues to be a haven that helps restore a deeper sense of inner peace. When I feel the presence of nature around me, I feel connected within myself. Being in touch physically with nature helps me feel grounded.

If I'm struggling with my thoughts and finding it difficult to be present in my body, I know that being in nature will help me reconnect with what's real. And from there, it's easier for me to be calm and connect with a sense of inner peace.

3. Movement

Moving my body consciously through practices such as stretching, yoga, walking and dance immediately help me feel present and connected to my body. And in doing so, naturally evoke a sense of inner peace.

When I feel particularly 'stuck' in my thinking or disconnected from myself, consciously moving my body opens up the possibility of experiencing deeper calm and ease.

There's nothing I need to do other than tune into my body and follow what movement feels intuitively right for me. When I make conscious movement a daily practice, I embody peacefulness within the whole of who I am.

4. Music

When I listen to music that inspires and moves me, I naturally connect to a deeper part of myself. It might be quiet, meditative music, or something entirely different, depending on what feels good to me in the moment.

Like the other pathways, music effortlessly brings me back into connection with a sense of inner peace within my whole self.

I find that if I'm genuinely present with music, and feel the music immerse my whole body and self, it creates an environment that's both healing and incredibly empowering. It helps me be present to what is real and moving within me.

These are the pathways that help guide me into a space of inner calm and peace. Perhaps you resonate with these, or perhaps you have your own ways of deepening the experience of peacefulness within yourself.
Via
Vilma Bonilla