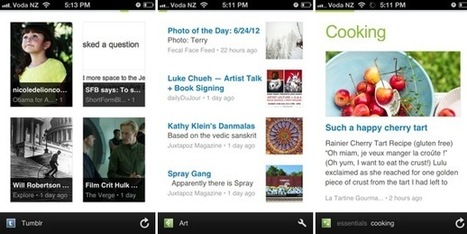 Google Reader is the undisputed king of RSS Readers for the desktop, mostly because it's the Last One Standing. However, there is much more competition among RSS Readers for smartphones and that means there are some great options out there.
In this post we give you our recommendationfor best mobile RSSIn order to make a single recommendation that will be useful to as many people as possible, we applied the following criteria:
+ Must be cross-platform, which at minimum means it works on both iOS and Android.
+ Should have granularity of control, meaning you can easily access all of your feeds and folders.
+ Even though Twitter and Facebook haven't usurped the RSS Reader, the modern mobile RSS Reader should integrate with the leading social services and help filter out their noise.
+ Must hook into Google Reader. Since Google Reader is the dominant desktop RSS Reader, it's therefore the most common place to subscribe to feeds. Google allows mobile apps to access Google Reader subscriptions and it's become an essential feature for a modern mobile RSS Reader.
With those criteria to guide us, there was one mobile RSS Reader that stood out...
Our Recommendation: Feedly
Feedlyis basically a better user interface for your Google Reader feeds. After you input your Google Reader username and password, Feedly lists out your Google Reader folders and offers a slick, intuitive way to browse them.
Spoiled For Choice: Other Recommendations
If you're looking for a mobile RSS Reader, we recommend you try Feedly first. That said, there are many different flavors of mobile RSS Readers and a lot of it will come down to your personal preferences. So if Feedly doesn't taste quite right to you, here are some alternatives that may satisfy your RSS appetite:
Pulse http://goo.gl/5dT5F
Reeder http://goo.gl/YkaFI
Flipboard http://goo.gl/x6vPE
my6sense http://goo.gl/KsM66
Read more : http://goo.gl/z5Mhv