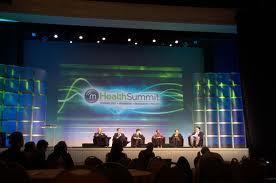 1. BioSensics ActivePERS. "ActivePERS is the only Personal Emergency Response pendant with clinically validated and patented automatic fall detection algorithms. It was developed with support from the National Institutes of Health. ActivePERS technology is quickly becoming the gold standard in automatic fall detection, as evidenced by its rapid adoption from leading edge companies specializing in home health monitoring solutions that enable seniors to live more safely and independently from their home. ActivePERS also features non-compliance alerts that continuously monitor if the device is being worn by the patient, as well as step counting that can be reported hourly or daily." Learn more at Biosensics.
2. CleverCap. "An innovative digitally-enabled cap for standard prescription bottles that allows for continued compliance monitoring at a fraction of the cost of traditional programs. The CleverCap™ compliance reporting platform is a Web 2.0 digitally encrypted environment that allows physicians and insurance companies layered access to patient data. In addition to its web-based reporting and recording capabilities, CleverCap™ is also equipped with audio and visual alerts to remind patients when it is time to take a dose. In short, CleverCap™ allows patients, physicians and insurance companies to easily and affordably track and monitor compliance." Learn more at CleverCap.
3. GenieMD. "The heart of GenieMD is a secure personal health record with built in features to drive treatment adherence and care collaboration. These features were designed to support individuals with chronic conditions, those on multiple medications, those who see multiple providers or who have a large care team. These individuals and their families are often left solely responsible for coordinating care, adhering to treatment plans outside of the doctor's office or hospital; with GenieMD users can conveniently. This content-rich application provides support for anyone looking for trusted medical information in order to diagnose symptoms, find a nearby doctor, hospital or pharmacy, or learn more about medical conditions and living healthy." Learn more at GenieMD.
4. Phone Oximeter. "The Vital Signs DSP is the company's proprietary signal processing platform for the development and commercialization of ultra-low cost vital signs monitoring applications in mHealth. LGTmedical is focused on product and channel development, with an aim to achieve the most scalable, profitable and clinically impactful solutions. The Phone Oximeter is an ultra-low cost monitoring device that guides front-line healthcare workers to quickly and accurately manage a wide range of clinical conditions. The hardware and software are hosted on standard mobile devices and will rapidly assess (spot-check) oxygen saturation and guide diagnosis and management of disease." Learn more at LionsGate Technologies.
5. MediSafe. "MediSafe is an iOS and Android mobile app and cloud- synced database providing medication and treatment adherence program for patients, their family and friends support systems, also offering many benefits to instituional elements of the healthcare system.MediSafe Project has researched and developed family and friend-enhanced support to improve medication and treatment adherence for people with all kinds of medical conditions. Our work has shown us that medication non-adherence stems from a combination of individual AND condition-specific factors." Learn more at MediSafe.
6. Medicast HouseCalls on Demand. "Medicast is using mobile phones to bring back the house call. The service lets you call a doctor who will actually show up to your house, office, or hotel within two hours, according to the company. Medicast would easily send a doctor to your hotel for example. healthcare service that connects patients with nearby on call doctors on-demand to deliver affordable, high quality and compassionate care in the comfort of the patient's home, workplace, or hotel--all within 2 hours. Available on iOS, via the web, and directly through the phone (call center)." Learn more at Medicast.
7. MediVu. "A visual EMR for smartphones, tablets, and workstations, MediVu is a pioneer in the field of Visualization and Situational Awareness for healthcare applications. We construct a big picture view to support faster, more accurate decisions by the clinician. Whether viewed on a wall-mounted touch screen, computer workstation, tablet or smartphone, our Quality Shield provides a complete picture of the patient's status with drill down capabilities for the details." Learn more at MediVu.
8. Nonnatech. "The Nonnatech system is a wireless plug and play system that allows streaming video over a standard broadband connection regardless of the modem/router combination. It allows for remote monitoring of your loved one in real-time the entire day and allows your loved one to age in home independently while giving you peace of mind. It gives you the ability to monitor your loved one from your computer or phone as well as view live video. Our sensors allow you to set up alerts that can be sent as a text or e-mail. You can create rules or macros that will allow you to arm and disarm specific sensors at specific times and to notify you or anyone you decide based on those rules." Learn more at Nonnatech.
9. SensiMAT. "The SensiMAT for Wheelchairs is the first and only mobile application that can facilitate pressure relieving behaviour. The SensiMAT for Wheelchairs is a thin mat containing pressure sensors that is inserted underneath your gel, air, or foam cushion. These sensors send pressure data to your mobile device, where SensiMAT System's proprietary PressureRisk algorithm alerts you when you have a high amount of built up pressure, and facilitates and tracks your pressure relieving exercises." Learn more at SensiMAT.
10. Tactio Health Group Remote Patient Monitor. "Tactio RPM1000 is the remote patient application built on Tactio's vast multi-million mobile health tracking experience that delivers home health tracking of Body Weight, Blood Pressure, Heart Rate, Diabetes, Cholesterol and more from manual data entry or automated eHealth sync from BodyMedia, Fitbit, iHealth, Jawbone, Medisana, Mio, Wahoo Fitness and Withings connected health devices." Learn more at TactioSoft.
Via
Marc Phippen
,
Rémy TESTON