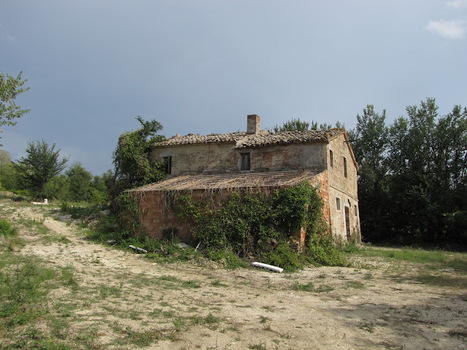 The following words will describe you how the story of a renovation has started in Le Marche.
You are lucky and can take profit of others experience clicking on the photo. Read how the adventure has progressed.
<<The 2nd of October 2011 will be our 30th wedding anniversary.
On that day Peter and I will be driving through Switzerland on our way to Le Marche in Italy to start the build of what will be our new home.
Our dogs, Elsie and Pip, travel with Peter in the landrover and I tag along behind in my little automatic Honda. Apart from the 70 cu. mtrs. (!) of stuff we still have in storage in the UK, these two cars also carry all the worldly goods we took from the farm when we sold it in January.
"Il Gelso" from the title of this blog, is the name of the pile of bricks, once a farmhouse, which we are buying in Le Marche. A gelso is a mulberry tree. At present this mulberry tree is firmly rooted in the foundations of the house and one of the first tasks in the rebuilding process will be to uproot and replant it. Paolo has already warned us that it will need a lot of watering and tlc when it is replanted; its metaphorical significance is not lost on us. Paolo is our geometra, which, as far as I understand, translates as builder, architect, and "what I say goes" man on site. His name will no doubt feature often in these blogs - what do you think?>>