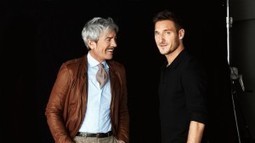 Cesare Paciotti, a leader in the industry, always on the cutting edge and attentive to the needs of the market identifies the great champion Francesco Totti as its own testimonial.
"The Gladiator" and the designer will "take the field" for the making of the new Cesare Paciotti Jewels press campaign.
An extensive collection by the gritty character and by the strong charisma, that includes watches and jewelry made with a precious metal like silver and customized with the dagger, undisputed symbol of the maison
Behind the lens, Stefano Galuzzi, photographer of great prestige, already author of excellent portraits to famous faces.
"I am really excited that a world-class athlete, like Francesco Totti, interpreters my creations and is the face of the new Cesare Paciotti Jewels collection" – says the designer - "This is definitely the positive result of the growing future prospects of my company and of the undisputed image of Italian excellence".