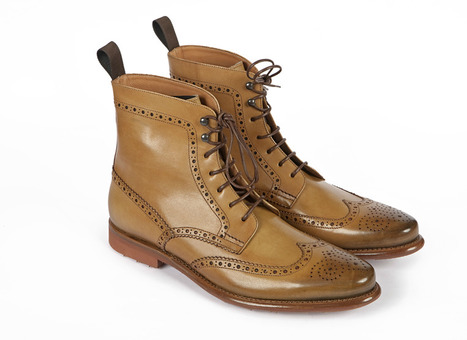 "Being passionate about shoes does not mean you just buy them"
The real Lover isn't found in the way he chooses his shoes. but in the way he looks after them.
It's important to change your shoes everyday. Even the best manufacturers are unable to avoid the premature wearing out of the shoes if appropriate time for drying isn't allowed. The leather becomes limp, loses abrasion resistance and consistency.
Shoe care entails applying essential products (creams and polish) and individual methods.
When properly looked after, the shoe can look gorgeous.When mistreated and neglected, it may lose its own lustre in a few months.
"After the shoe" is a set of simple but helpful guidelines on how to take care of shoes.
The shootrees: this is a tool which helps the shoe maintain its original axis hence putting the leather in the best condition to dry evenly...
Tho polish: the real quality polish is beeswax. Its aim is to soften, make waterproof and burnish the leather...
Tho shoe cream: customers get often confused with shoe cream and shoe polish and for this reason they substitute one for the other absent-mindedly. Shoe cream, actually, has a very specific purpose as it works like a detergent...
The conditioner: it is very similar to the cream. with a plus: it contains mink oil...
The soap: because of its content of glycerin, the colours may fade if it is too frequently used. Soaps such as balms or ointments should only be applied to certain footwear: football shoes, mountain boots,...
Conditioning: to dry the soles,it is recommended not to leave the shoes on the floor as they would not be able to breathe. Place them in supine position. Never put damp shoes under unnatural sources of heat...