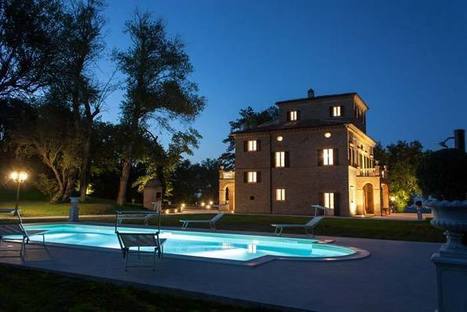 Tuscany and Umbria, once considered the two most glamorous of all Italian destinations, have a new rival. Le Marche is fast acquiring a reputation as the Italian destination of choice for many Italians and foreigners in search of property.
Gorgeous countryside, lovely old towns and a sensational quality of life are part of the region's allure. Bordering Tuscany, Umbria and the Adriatic Sea, Le Marche is one of the most beautiful, unspoilt and interesting Italian regions. Its strategic location makes it a perfect spot for reaching all of the most important destinations of central Italy, including Ravenna, Siena, Florence, Assisi, Urbino, Gubbio and Perugia.
With its variety of landscapes, Le Marche is an enchanting distillation of Italy. To the east, the green-blue Adriatic Sea laps ashore, while the Apennine Mountains gently ease into verdant foothills dotted with Renaissance towns to the west. Another aspect that defines the region is its expanse of rolling hills, resplendent with ancient hilltop villages protected by their formidable walls.
Le Marche encompasses everything that Italy has to offer – sun, mountains, caves, lakes, sea and beaches. Medieval towns and villages. Farmland, folk traditions and religious parades. Skiing, horseback riding, hiking, sailing and biking. Art, architecture, museums, castles and forts. Good food and acres of thriving vineyards.
Le Marche boasts the highest number of museums and art galleries in Italy (there are 342 in 239 towns). There are architectural gems, antiquities and artistic landmarks from the Roman, Medieval, and Renaissance eras. The numerous beautiful small towns and villages of Le Marche are full of ancient churches and historic buildings, whilst the countryside is covered by rows of vines and olive groves. Many historic buildings around the region still boast works of art by painters such as Carlo Crivelli, Piero della Francesca and Raphael.
Le Marche offers 180 kilometres of coastline, which is characterised by wonderful beaches of golden sand, pebble or rock, picturesque bays, marinas and palm trees that are reflected in the blue Adriatic. Le Marche can boast one of the highest number of Blue Flag beaches of any region in Italy. The prestigious Blue Flag is awarded by the Foundation for Environmental Education (FEE) and takes into account criteria such as beach quality, safety, cleanliness and water quality. [...]