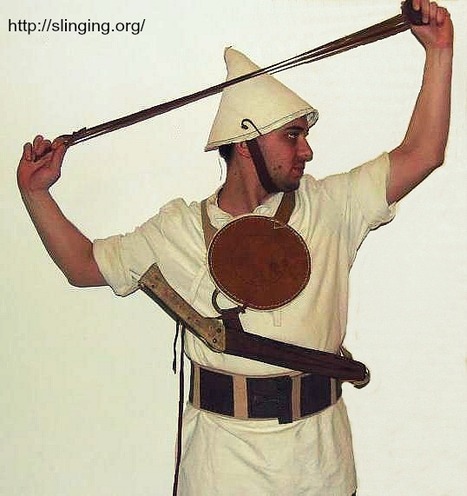 Picenians lived in Le Marche Region starting from 8th Century b.C., and they were known for their skills as pirates and mercenaries. In fact, Rome hired them as allies first and auxiliaries later, and they were the only Italic population which the Romans had to deport in order to grant the pax Romana. Picenians were some of the best warriors in history.
The average warrior, not a rich member of his tribe, was characterized by the lack of metallic equipment.
He's armed with an iron short sword of Balcanic origins and his simple sling, a weapon of which use have some evidences dating from the 6th to the 5th Century.
He was wearing a war belt made of reinforced leather, fasten with a simple bronze pin.
This belt was used to protect the lower stomach, while the chest was protected by the famous kardiophilax.
A kardiophilax was a very primitive kind of protection consisting of a couple of discs (or squares) made by various materials and covering the heart from both sides of the body. Since our warrior was not rich, his kardiophilax was made of some layers of linen and a sheet of leather, hardened with the use of salted boiling water. Richer warriors and warlords had bronze kardiophilax with iron reinforcements.
Both the belt and the kardiophilax were common among the Iron Age populations in Central Italy.
The warrior was protecting his head with a light cap made of some layers of linen, glued and sewn together. This kind of cap was very common at that time and have many evidences: bronze and pottery figures from Region Marche, Umbria and Sardinia, a bark example from Southern Germany and a copper one from Region Veneto.
The linen tunic is a typical short one, as can be seen in many frescoes, pottery and bronze figures of the time. It didn't change until Greek first, and then Roman fashion took its place.