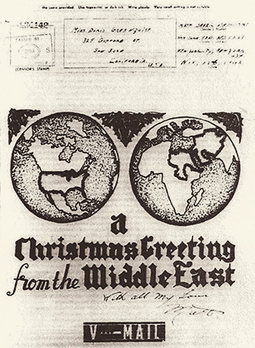 This V-mail Christmas card, dated November 22, 1941, was sent by Matthew Brazil to his sweetheart (and later wife) Doris Greenquist of San Jose, California.On December 11, Matt's plane was shot down near Naples while on a bombing run, and he was captured.
The following San Jose area newspaper articles, document the details of his disappearance and capture, and his mother's first communications about him.
One of the articles mentions a Christmas card sent by Matt to his mother on the same day time he sent the V-mail card to his girlfriend.