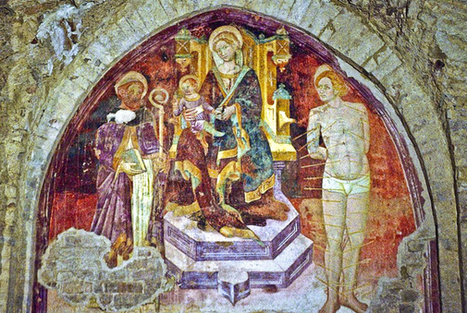 The Late Medieval economic boom during the 11th and 12th centuries brought with it a renewed interest in building.
The period also saw the establishment of many new monastic orders, most notably the Franciscan, Cistercians and Camaldolese, who built abbeys and monasteries throughout the Marche.
The Romanesque style of these years was both the sum of these new influences and a harking back to distant memories of Roman architecture. Churches were built in the form of Roman basilicas with rounded arches often supported on pillars recovered from the ruins of early Roman buildings.
Many magnificent examples of Romanesque churches have survived in Marche, including :
The Pieve di San Leone and Cathedral at San Leo

The Cathedral of San Ciriaco, Ancona

The Church of Santa Maria di Portonovo, just south of Ancona

The Church of Santa Maria a Piè di Chienti, near Macerata

The Monastery of Fonte Avellana

The Abbey of Chiaravalle at Fiastra