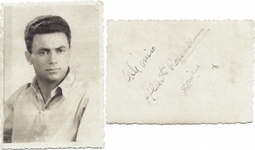 When Albert Rosenblum and three fellow prisoners escaped from Camp 59, they decided that south was the best direction to travel to reach the Allied lines.
They had no food or water, no weapons, and they were in foreign territory wearing their prison military uniforms. All the prisoners were malnourished from the inadequate food supply at Camp 59.
As they neared the town of Ortezzano (Fermo Province), sympathetic locals put them in touch with the Partisans. The Partisans fed them and provided less conspicuous civilian clothing.
The Americans, all experienced as infantrymen and schooled in escape and evasion techniques, wanted to try to reach the Allies. They asked for an Italian guide to lead them through enemy lines.
The Partisans, however, felt it was too dangerous and...