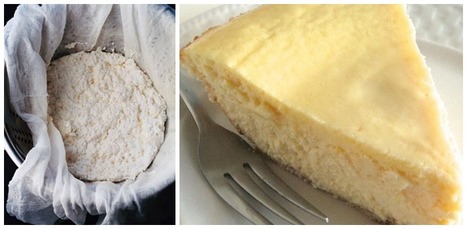 Technically, ricotta is not a cheese at all, but a cheese by-product. Its name, ricotta, means cooked again, an obvious reference to the production method used to make it.
Ricotta is made from the whey drained from cheeses. American ricotta is generally made with a combination of whey and whole, low-fat or skim cow's milk.
Ricotta is a fresh, soft, snowy white cheese with a rich but mild, slightly sweet flavor. The texture is much like a grainy, thick sour cream. Ricotta is naturally low in fat, with a fat content ranging from 4 to 10 percent.
Fresh Homemade Ricotta
Ingredients - Makes about 2 cups
2 quarts whole milk

1 cup heavy cream

1/2 teaspoon salt

3 tablespoons fresh lemon juice
Special equipment: large sieve, fine-mesh cheesecloth
Ricotta Pie
Ingredients - Crust
2 whole graham crackers, enough to make 1/3 cup crumbs

1 tablespoon sugar

1/4 cup almonds — whole, slivered, or blanched

pinch of salt
Filling
3 cups ricotta cheese, whole-milk or part-skim

6 large eggs

1/3 sugar

1/4 cup Amaretto liqueur

1 teaspoon vanilla extract, to taste

1/8 teaspoon salt