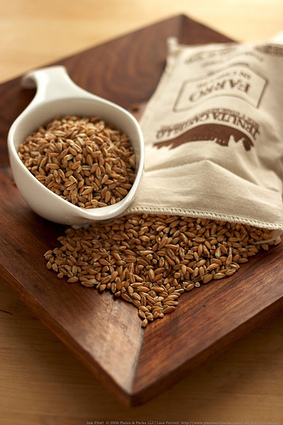 Farro seems to be taking over menus at every stage of the meal -- soups, salads, mains, and even desserts. But what exactly is farro?
Often used as a substitute for pasta or rice, farro is a grain with a nutty flavor similar to brown rice. It is gluten-free and rich in fiber, magnesium and vitamins A, B, C, and E.
Farro may seem trendy, but it's actually ancient. It was first domesticated 10,000 years ago in the Fertile Crescent, has been found in Egyptian tombs, and is believed to have sustained the Roman legions. Today, farro grows in the central and northern Italian regions including Le Marche, Lazio, Umbria, and Tuscany. Historically, these were impoverished areas, and the longevity of its people is sometimes attributed to farro.
True farro is Triticum dicoccum, also known as emmer. Its husk has two spikes. A similar plant, Triticum monococcum, has only one spike and is also called faricella, or "little farro." This has caused widespread confusion, leading Farro di Monteleone di Spoleto to seek the designation of the European Union's Protected Designation of Origin, similar to true Champagne from the Champagne region of France.