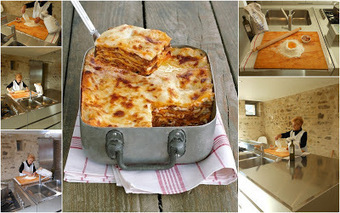 Gianna is not a Michelin Star cook. She is not the proud chef of her own restaurant. Gianna is simply an "ordinary" Italian Mamma, who loves cooking and is extremely good at it. Everybody who has had the pleasure of trying one of her dishes is raving about her skills: Her pizze, for example, are a mouth-watering combination of a perfect base, genuine mozzarella, homemade tomato sauce and fresh toppings, and reveal their wonderful flavour after their passage in a wood fired oven.

This shy woman lives in Le Marche, a beautiful a beautiful region in the centre of Italy, perhaps less known as her Tuscany or Umbria neighbours but with a strong food culture. Gianna prefers to prepare dishes for guests in the comfort of her own home, surrounded by her beloved utensils, but will on occasions cook in the kitchen of another house should the menu require perfect timing. Other signature dishes of hers include the very simple but heavenly combination of melon and prosciutto (cured ham), pork or beef stews served with grilled vegetables or scrumptious fruit tarts to give the meal a final sweet note.
Lasagna Vincisgrassi

Time: 4 hours
8 tablespoons unsalted butter, melted
1 slice prosciutto, 1/4- inch thick, about 6 ounces, diced
3 cups finely diced onions
1 cup finely diced celery
1 cup finely diced carrots
1 tablespoon tomato paste
1/4 cup extra virgin olive oil
2 1/2 pounds boneless veal shoulder, trimmed, in 1/4-inch dice
1 750-milliliter bottle dry Marsala
2 cups veal stock
6 cups chicken stock
3 whole cloves
1 bay leaf, 1 sprig rosemary, 1 sprig thyme, tied together
Salt and black pepper
1 ounce dried porcini
4 cups heavy cream
1 large egg
1 pound cremini mushrooms, finely chopped
5 sheets fresh pasta for lasagna, each about 9 by 12 inches
2 cups freshly grated Parmigiano-Reggiano.