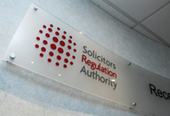 SRA approach to referral fee ban receives LSB green light
SRA: told to be transparent about ABS applications around referral fee ban
The Legal Services Board (LSB) yesterday put the seal of approval on the Solicitors Regulation Authority's plans to regulate the referral fee ban.
The news came as the Law Society pressed the LSB to provide reassurance that the way referral fees are regulated will be consistent across the entire legal profession.
The LSB formally approved the changes to the SRA Handbook that will from 1 April introduce two new outcomes – that those regulated by the SRA should not pay or be paid a "prohibited referral fee" as set out in the Legal Aid, Sentencing and Punishment of Offenders Act 2012 – supported by three new indicative behaviours.