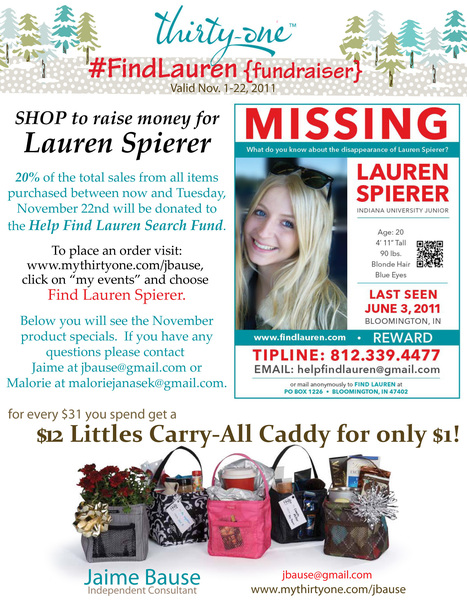 Shop with Thirty-One to raise money for the ongoing search efforts to find missing Indiana University student Lauren Spierer.
20% of the total sales from all items purchased between now and Tuesday, November 22nd will be donated to the Help Find Lauren Search Fund.
To place an order, visit: http://www.mythirtyone.com/jbause -- click on "My Events" and choose "Find Lauren Spierer."
If you have any questions, please contact Jaime at jbause@gmail.com or me at maloriejanasek@gmail.com.
** Even if you CAN'T donate money, you CAN donate your social media efforts! Please select "ATTENDING" and then "SHARE" this with everyone you know. **
Facebook event: http://www.facebook.com/event.php?eid=186799774735368
For 5 months, a family has longed for their daughter.
For 5 months, friends have tried to live normal college lives but simply cannot– they think about Lauren every single day…they reflect on their favorite memories with Lauren, wishing desperately that she was with them now, living life, laughing and building new memories together.
For 5 months, the entire Indiana University campus and the surrounding community has lived in fear, knowing that evil is lurking somewhere amongst them.

And for 5 months now, supporters from around the world have opened their hearts and helped in our search to #FindLauren...
While I never thought we would reach 5 months, I must remind you that 5 is ONLY a number. The Spierer family, Lauren's friends, the Bloomington community and the world is STILL as hopeful today as we were on June 3rd.
It's not about the money, it's about keeping Lauren's story alive.
There is evil lurking on OUR campus-- its ruining IU's reputation and causing constant fear among students, parents, and the entire Bloomington community. The only way to end this nightmare is to find the person responsible for Lauren's disappearance.
People don't just vanish into the night. Someone knows something.
Keep Lauren's story alive, keep it in the media, keep spreading it around the world...the more people talking about it, the more pressure there is.
Not only do I want the Spierer family and Lauren's friends to have answers but I want MY school to go back to how I remember it best...