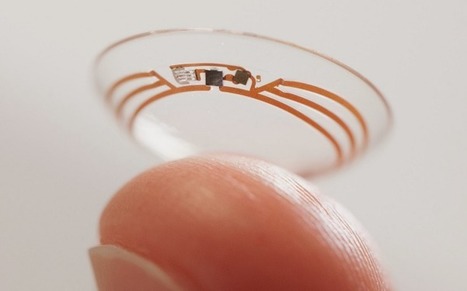 Finger pricks and careful eating are an important part of the daily routine for most people with diabetes. While automated glucose meters are a growing option, they can still create discomfort and other inconveniences.
Google wants to go in a totally different direction with a project announced today:smart contact lenses that can detect glucose levels via the wearer's tears and alert them when levels dip or rise.
This isn't the first smart contact lens, and several options already exist for people interested in monitoring glaucoma. But Babak Parviz, who also leads the Google Glass team, is a smart contact pioneer and Google which is a secretive division of Google dedicated to difficult, future-looking projects, has a reputation for ably pursuing projects like this.
The lens works via a small wireless chip and glucose sensor embedded between two pieces of soft material. The current prototype puts out a reading once a second. Google is also interested in integrating an LED light, which could light up to alert the wearer of dangerous glucose levels.
The lab is now looking for parters to help bring the lens to market. It would also like to develop an app that would help wearers read and manage the data the lens takes in.
The lens could help people with diabetes monitor their daily health and recognize dangerous situations.
more at http://gigaom.com/2014/01/16/google-testing-contact-lens-that-can-monitor-glucose-levels/
Via
nrip