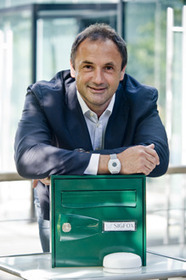 Sigfox entend aujourd'hui s'imposer comme le premier et l'unique opérateur d'un réseau cellulaire bas-débit.
Son réseau devrait mailler toute la France d'ici la fin 2012 pour un coût 1000 fois inférieur à celui des opérateurs classiques, et permettre le développement de l'internet des objets.
(...)
Sigfox table sur un marché de 150 milliards d'objets à connecter pour une technologie peu consommatrice en énergie – 1000 fois plus faible que celle utilisée dans le domaine de la téléphonie sans fil - et simple d'utilisation. « De plus, elle ne dégage pas de rayonnement, ce qui compte par exemple dans le marché de la télé-médecine. »
Des applications essentiellement B to B dans un premier temps
Ludovic Le Moan promet qu'à l'avenir pour quelques dizaines d'euros maximum d'abonnement à un réseau par an, tout notre environnement sera connecté. « Grâce à cette solution, votre pèse-personne pourra communiquer votre poids sur Facebook, et votre boîte aux lettres vous indiquera qu'elle compte du courrier par sms. »
Cependant Ludovic Le Moan rappelle qu'il ne s'agit pas d'un gadget, et que concrètement, cette technologie destinée pour le moment à une utilisation B to B, pour des raisons évidentes de rentabilité, devrait trouver des applications dans la collecte de déchets, l'électroménager, la télé-médecine ou la télé-relève de compteurs. Le premier client officiel de Sigfox est d'ailleurs Clear Channel, acteur majeur de la communication d'extérieur,« qui trouve dans notre solution le moyen d'améliorer sa qualité de service ».
(...)