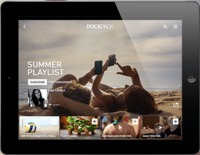 Excerpt...
Launched in June 2013, Rockpack is an intuitive video curation platform for iOS…Rockpack is a company to watch.
The globally-available Rockpack platform makes it easy for people to create personalized video channels to share content, as well as to subscribe to video content from friends, influencers and celebrities.
Compatible with Facebook and Twitter, Rockpack offers premium content from vloggers and a growing number of brand partners. The company believes users will share their favorite videos through their own networks, helping to drive the discovery of relevant content through peer-to-peer curation.
Via
marketingIO