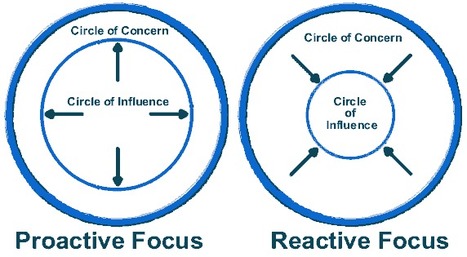 The Circle of Concern versus the Circle of Influence
This simple model forces us to think about where we choose to focus our time and energy. We all have many concerns that fill our lives. There are concerns about our work, our families, and our health, and then there are concerns about issues such as poverty, the national debt, the war on terror, global warming, and natural disasters.
All of these things fall into our Circle of Concern. However, only some of these concerns are things we actually have any real control or influence over. This smaller subset of concerns fall into what can be called our Circle of Influence.
Those who choose to focus their time and energy in the Circle of Influence are not only happier, they are the movers and shakers of the world. Rather than spending hours pouring over the news and worrying themselves into a fit of despair or helplessness, they are making a difference by focusing on the aspects of their lives they can actually control. By pouring energy into our Circle of Influence, we are actually able to expand it. Conversely, when we focus on the negative aspects of life, we cause our circle to shrink.