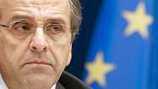 Talk of Greece exiting the euro will end after critical votes in parliament this week on new austerity measures, labor reforms and the 2013 budget, Greek Prime Minister Antonis Samaras said on Sunday.
The three-party government will submit the package of measures to parliament on Monday and must approve both it and the 2013 budget to receive aid from the IMF and European Union that it needs to avoid bankruptcy.
The junior ruling Democratic Left Party has refused to back the mix of tax hikes, spending reductions worth 13.5 billion euros because they are tied to measures that will cut wages and severance payments and scrap automatic wage hikes.