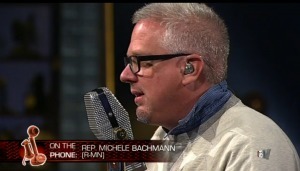 BACHMANN: Glenn, thank you so much. What an important topic, and I have to say that you and the people at The Blaze have been leading the pack on this. And thank you for the wonderful documentary that you've done because the influence today of the Muslim Brotherhood at the highest levels, from the White House, to the Pentagon, to the FBI, even to our United States military truly is breathless and people have to know about it.
GLENN: Okay. So tell me what happened. You and who else wrote a letter to the inspectors general's office and said, "There are some questions here that need to be addressed."

BACHMANN: That's right. It was three members of the intelligence committee: Myself, Lynn Westmoreland from Georgia, Tom Rooney from Florida and two members of the judiciary committee, Trent Franks of Arizona and Louie Gohmert of Texas all signed onto a letter. We asked numerous questions of the federal government because a letter was sent ‑‑ well, let me just back up. After the Fort Hood tragedy, a report was issued that said the real problem in our government is that we are not teaching FBI agents or our military to recognize radical Islam. So that's what we need to do. We need to teach about it. Well, in response to that, 50 ‑‑ over 50 Muslim organizations wrote a letter requesting that the White House start a task force to stop that from happening. Five days after the White House got this letter, this October 19th letter ‑‑ and people can see it on my website, or maybe you have it on The Blaze ‑‑ five days after the White House got this letter from the 50 Muslim groups, they started the purge of the federal government. Let me tell you, the federal government doesn't do anything in five days. But they started the purge of the FBI. So now the FBI, who are supposed to be trained in radical Islam, elements have been purged off their training materials so they are no longer being taught about what radical Islam is in order to be able to truly identify it ahead of time. This is serious.

Related