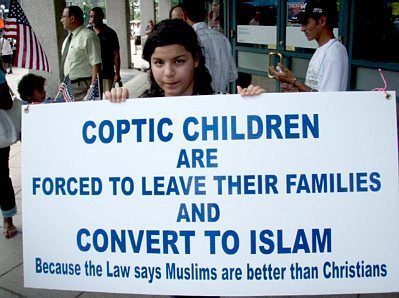 Qur'an (9:29) Fight those who do not believe in Allah or in the Last Day and who do not consider unlawful what Allah and His Messenger have made unlawful and who do not adopt the religion of truth from those who were given the Scripture - [fight] until they give the jizyah willingly while they are humbled.

(Gatestone) "They need to know that conquest is coming, that Egypt will be Islamic, and that they must pay jizya or emigrate," Morsi reportedly said.
According to the popular Egyptian website, El Bashayer, Muhammad Morsi, the Muslim Brotherhood presidential candidate, just declared that he will "achieve the Islamic conquest (fath) of Egypt for the second time, and make all Christians convert to Islam, or else pay the jizya," the additional Islamic tax, or financial tribute, required of non-Muslims, or financial tribute.

In a brief report written by Samuel al-Ashay and published by El Bashayer on May 27, Morsi allegedly made these comments while speaking with a journalist at the headquarters of the Muslim Brotherhood's Freedom and Justice Party, adding "We will not allow Ahmed Shafiq [his contending presidential candidate] or anyone else to impede our second Islamic conquest of Egypt." continue reading
Related