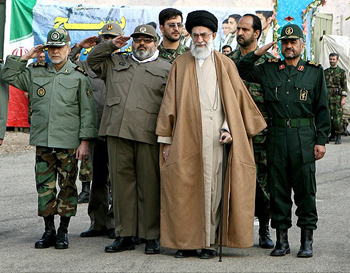 (Reza Kahlili) - Last week, CBN aired a special report on the possibility of an attack in the scale of 09/11 by Iranian assets here in America: "Will Iran Strike New York City on 9/11 Scale?"

Erick Stakelbeck, the CBN News Terrorism Analyst, who put together the report, explained how Iranian diplomats and other assets are present in America and the possibility of an attack on U.S. soil.

The report included a statement by Congressman Peter King, who sits on the House Permanent Select Committee on Intelligence, that hundreds of operatives are in U.S. and that several Iranian diplomats stationed at the UN were involved in much more than it appeared as several of their associates were caught photographing sensitive sites. These people were removed from the UN mission and sent back to Iran.

Also in this report is my interview about how the Islamic regime uses Mosques in the U.S. as their operational centers and how they have done reconnaissance on key sites for terror attacks such as railroads, power plants, food distribution centers, water supplies, bridges, and others. Some of that information was also passed to the FBI.

Today, however, Mashregh news, the media outlet run by the Islamic regime's Revolutionary Guards, has put up the CBN report with a title "Iranian Assets Present in U.S. Mosques for Terror Attacks," with a full translation of the report, which even included the original video of the report continue reading/watch video


Related