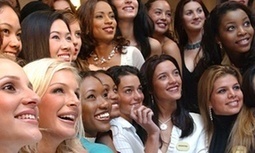 If your partner has a face that could curdle milk, you only have yourself to blame. Scientists have found that the faces we fancy are shaped more by our personal experiences than genetics or other influences.

Their study into facial attraction showed that when it came to rating people as hot or not, even identical twins who grew up together disagreed. In fact, genetics turned out to explain only a fifth of the variation in people's tastes, meaning very little was inherited.

The greatest influence on people's preferences was their own life experiences - a mass of factors that could include the friends they make, the odd chance encounter, and even the face of their first love.

"If you think about your first romantic relationship, that person's face, or someone who looks like them, might be attractive to you for years to come," said Laura Germine, a psychologist who co-led the study at Massachusetts general hospital in Boston.

"On the one hand, it's common sense that our individual experiences will be important for who we find attractive, but on the other hand, we know that people's ability to recognise faces is almost entirely down to differences in genes," she said.

Some aspects of beauty are widely agreed on. For example, most people find symmetrical faces more attractive than wonkier ones. Facial symmetry is thought to reflect good development and to find it attractive might be written in our genes.