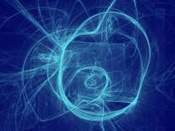 "Humans are the stuff of the cosmos examining itself"Carl Sagan...
For those of you who are not familiar with this fascinating project, and should you think to yourself: What the heck is a "Blue Brain," here's a very short introduction: It is an attempt to create a virtual brain in a supercomputer by reverse-engineering the mammalian brain, no less, and therefore not simply an artificial neural network, but a biologically realistic model of neurons.
Henry Markram, director of the Blue Brain project, is a professor and brilliant neuroscientist with dual South African – Israeli citizenship, now working at École polytechnique fédérale de Lausanne, Switzerland.
Later on in this article, you will find an interview with Markram, but first let me tell you about my personal Odyssey.
I am an atheist, - and "militant " at that, - but like scores of fellow atheist, I am having certain scruples.
As far as considering the belief in supernatural beings to be bordering on the idiotic, I am fine. Also, I totally and emphatically reject the notion that atheism in any way equals immorality.
[ In fact, if you will excuse my French, it makes my hemorrhoids itch to learn from The Skeptic's Dictionary, that according to Article IX, Sec. 2, of the Tennessee constitution, "No Atheist shall hold a civil office." Ok, - I can't imagine this article has any practical implications in this day and age.
Anyone out there to tell me otherwise. ]