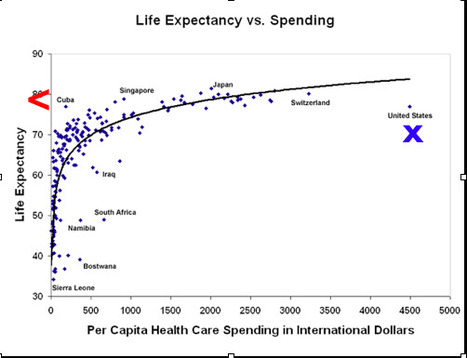 I was emboldened, upon arriving at the Mayo Clinic 's Centre for Innovation last week, to learn that people with deep domain knowledge do not make the best innovators. I concluded that I was therefore well-qualified to warn one of the top academic medical centres in the world, each of whose 60,000 staff knows more about medicine than I do, about the risk of catabolic collapse in the US health system - and what to do about it.
[The 20 minute video of my talk is here. This text touches on:energy intensity in health systems; peak fat; 5% health in Cuba; the Quantified Self; Design grammars for health and care; doing what we know we need to do. It builds on the chapter on Conviviality in my book In the Bubble].
My core proposition at the Mayo event was that peak oil, and peak fat, are transforming the logic that currently shapes the global biomedical system. Firstly, because coming energy famines will render one of the world's most energy-intensive systems unsustainable. And second, because until the medical system addresses the causes of illness with the same brilliance with which it addresses the effects, the population will continue to get sicker.