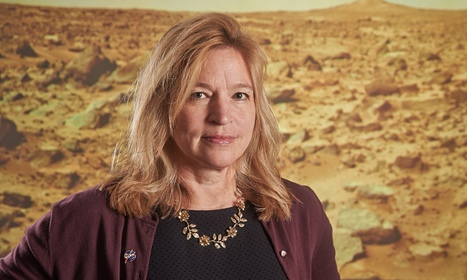 Dr Ellen Stofan says that missions to the red planet are a priority of the US space agency – and that the best way to search for extraterrestrial life is by setting up a permanent presence. Interview by Nicola Davis
-
Is Nasa looking for intelligent life?
Nasa, right now, is really taking a step-wise approach: let's look at our own solar system and the most likely places where we might find life. That's why we are so focused on Mars, because we know Mars had liquid water on the surface and we think that is essential to life. What we expect to find, certainly in our own solar system, are probably simple single or multiple-cell forms of life. To get to intelligent life takes stability of conditions over huge long periods of time. [We're] not sure that condition exists anywhere else in our solar system. But certainly when we go out and look for habitable planets around other stars it's something that we can start thinking about.
The Kepler mission has found planets orbiting stars other than our sun. What is the impact?
It's turned around our understanding of how our own solar system formed, because when you only have one solar system to study you make assumptions that are based on that information. [When] you have many solar systems to study, many planets to study, it is really making us rewrite textbooks. We're launching the James Webb space telescope in 2018 that is going to study the atmospheres of those planets around other stars.
Some might argue that it's a luxury to be spending money investigating other planets instead of solving Earth's problems …
I always like to say just think you were a doctor with only one patient. You might understand how that person gets sick, how they get better, but you understand nothing about the progression of disease or how humans in general get ill. Now take an Earth scientist: you only have one planet to study. Our studies of other planets are really what we call comparative planetology. Think of the other planets as being simpler versions of the Earth where you've tweaked the physical conditions, maybe the composition, the density of the atmosphere. It allows us to rip apart the physics of some of these problems and give us a better comparison.