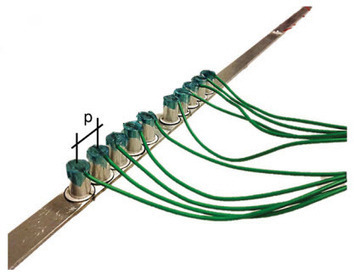 A one-dimensional working model of a programmable vibration-damping material. Each stub has a piezoelectric disc (which converts mechanical to electrical
-
Researchers from Empa and ETH Zurich have developed a prototype of a selective vibration-damping material that they claim "could change the world of mechanics forever" as a step toward "programmable materials."
Described in the journal Advanced Materials, this "material of the future" can damp mechanical vibrations completely or selectively suppress specific vibration frequencies or ranges of frequencies.
The one-dimensional working model consists of a simple aluminum sheet-metal strip, measuring one meter by one centimeter and one millimeter thick and designed to vibrate at different frequencies. To control the wave propagation through the plate, ten small aluminum cylinders (7 mm thick, 1 cm high) are attached to the metal.
Between the sheet and the cylinders sit piezoelectric discs, which can be stimulated electronically to instantly change their thickness.
That allows for controlling exactly how waves are allowed to propagate in the sheet-metal strip. The aluminum strip thus turns into an "adaptive phononic crystal" — a material with controllable vibration properties.